HISTORY
The origins of our company begin with Sylvester Caruso Battaglia, known to his friends as "Batt", who was born in Troy, NY in 1907. After completing high school at the age of 16, he enrolled in the Wharton School of Business Administration at the University of Pennsylvania. Mr.Battaglia graduated in 1927 with a B.S. in Economics and moved to Orlando to work with his uncle as Secretary and General Manager of Southern Fruit Distributors, Inc. where he was a stockholder.

In 1948 Battaglia left his uncle to venture out on his own. He created Battaglia Fruit Company in 1950. It was then that he leased and later acquired the former R.D. Keene packing house in Winter Garden, Florida. During the years that followed he acquired and planted thousands of acres of groves in a number of counties and established one of the region's best known fresh-fruit businesses. The company, which packed and shipped oranges under a number of brands, including Billy-Bob (named for his two sons), regularly ranked among the state's top 10 fresh fruit shippers. Mr. Battaglia appointed his son Bob to President of the company in 1976.
Bob Battaglia closed the packinghouse after a statewide freeze in 1977 and was left with over 2,000 acres of prime grove and real estate throughout Central Florida to manage. In the 1980's, the Florida citrus industry suffered three catastrophic freezes that reduced Battaglia's producing citrus groves to approximately 350 acres. 1999 saw Bill Battaglia leave the practice of law and become President of the company. He played a key role in transitioning the focus of the business to real estate investment, management and development through the Battaglia Fruit Co., Inc. and Battaglia Properties, LLLP holding companies.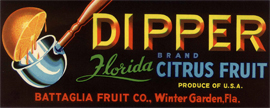 Currently operating under the name Battaglia Group, Bill and Bob now oversee the Battaglia family businesses which consist of real estate holdings including several office buildings in Orlando, Maitland, and Winter Park; and other agricultural investment properties in Orange, Lake, and Osceola counties.